Affordable, Reserved or Work Force Housing
Affordable housing is also known as low-income housing, reserved housing, and workforce housing. These homes are priced below the market price, available only to qualified Hawaii residents, and comes with occupancy and selling restrictions. They'll allow the use of co-signing and gift letters to aid buyers to qualify.
With Hawaii's increasing demand in housing and low supply, affordable housing for Hawaii residents are becoming highly sought after. There are currently two state agencies that oversee the affordable homes that are offered for sale, Hawaii Housing Finance and Development Corporation (HHFDC) and Hawaii Community Development Association (HCDA). These two agencies play a major role in how the affordable units are sold to qualifying buyers and creates what restrictions are given to the new buyers. Qualifications, restrictions, guidelines may differ project by project, so please note that the information below may be different from other affordable projects you may be looking at. We are starting to see new affordable projects come up in Kakaako, Ala Moana, and Ho'opili (Ewa Beach / Kapolei).
Not all new affordable housing projects are for sale. Some may be dedicated as affordable rentals instead. This post will focus on new fee-simple affordable housing projects for sale in Oahu.
Do I qualify?
These are general qualifications that HHFDC & HCDA look at. These may change project by project.
1. US Citizen or permanent resident alien (with valid government issued card)
2. At least 18 years of age
3. Resident of the State of Hawaii who currently resides in the State of Hawaii
4. Shall physically reside in the unit purchased (for 2, 5, or 10 years depending on the restriction requirement)
5. Does not own a majority interest in a fee simple or lease hold property anywhere in the world. (For some projects: may not own majority interest in property for a time period such as 3 years)
6. Has sufficient gross income to qualify for the loan to finance the purchase
Income Eligibility
The adjusted household income of a Qualified Person(s) shall not exceed 140% of the Area Median Income.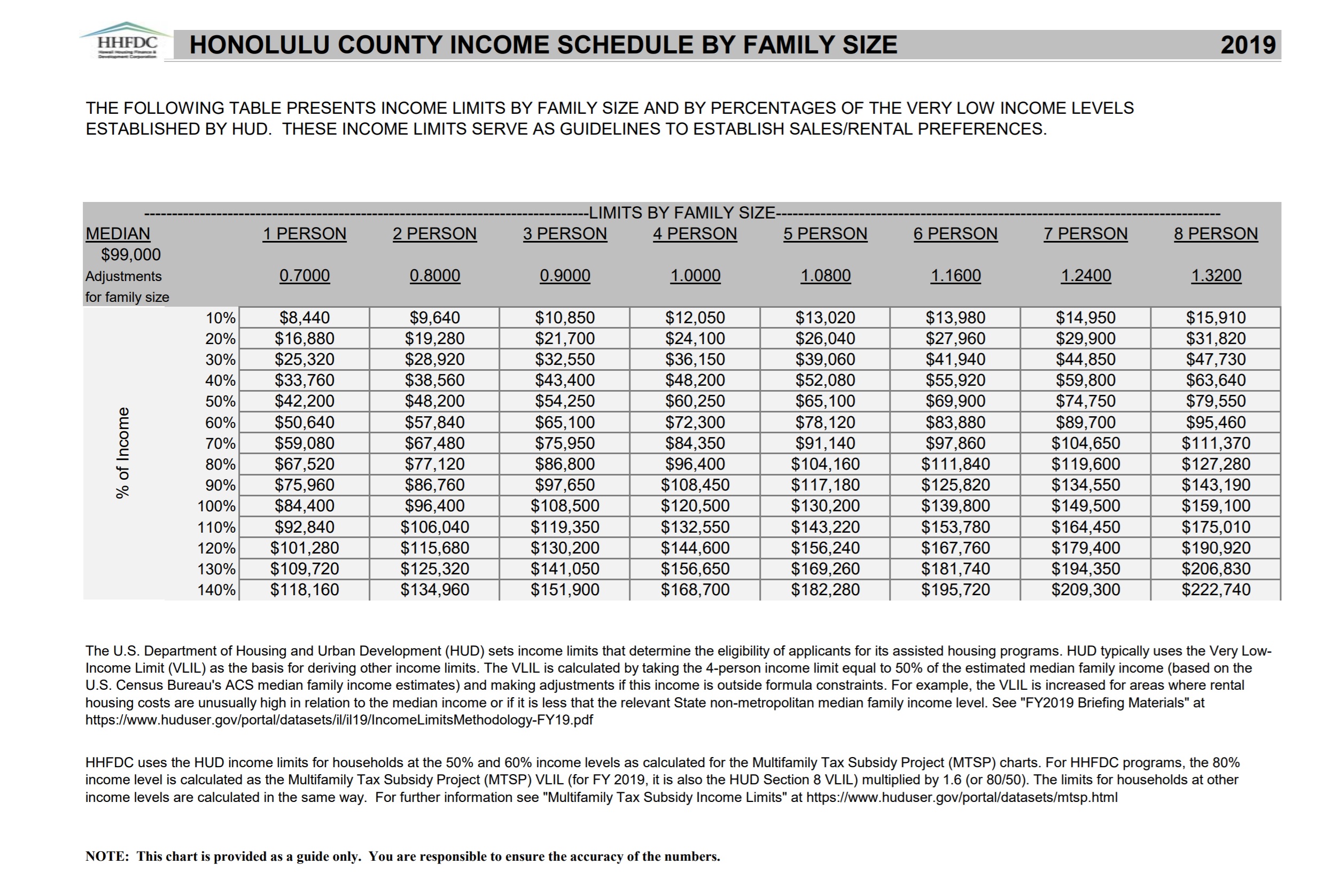 What restrictions comes with Affordable Housing?
In exchange for below market price units, there are restrictions that come with these affordable housing.

1. Buyback Restriction Program
This program requires the owner to occupy the unit for the duration of the program (2, 5, or 10 years). The buyback program gives HHFDC or HCDA, the first option to purchase the property in the unlikely event that the owner can no longer be an owner occupant or wishes to sell or transfer the unit prior to the regulated term. The restriction automatically terminates at the end of 10 years from the recording date.
2. Shared Appreciation Equity
The Shared Appreciation Equity (SAE) is the sharing of the property's net appreciation with the HHFDC/HCDA in exchange for the buyer's opportunity to purchase the unit at below market prices.
HHFDC – The Central Example
The SAE percentage is calculated prior to closing and once determined, does not change. The program requires owner occupancy for as long as the SAE obligation is owed to the state and has not been released by the HHFDC. The SAE must be paid when the property is sold, transferred or rented. Owners may pay off the SAE at any time after becoming the owner of record.
The formula is: Original Fair Market Value (determined by HHFDC's appraisal prior to closing), minus Original Purchase Price, divided by Original Fair Market Value, and rounded to the nearest one percent.
HCDA – Aalii Example
At the time the property is sold, the buyer will pay HCDA the shared equity.
Shared Equity = Market Price – Reserved Housing Price
HCDA uses these funds to subsidize other affordable projects
Reserved Housing Price for a unit: $400,000
Original Appraised Value for a unit: $500,000
Shared Equity = $100,000

Future Sale Price: $600,000
Minus Original Price: – $400,000
Minus Shared Equity: – $100,000
Net Profit: = $100,000
General Steps for Projects (Each project is different and may have different qualifications)
1. Newspaper Announcement – Don't miss out on the next opportunity, get notified by Joseph Castaneda (RA) when the next affordable project releases!
2. Educational Seminar or Sales Gallery, if available
3. Pick Up Application
4. Get Pre-qualified w/ Project's preferred lenders
5. Submit Application w/ Pre-qualification Letter by due date
6. Public Drawing
7. Property Selection Numbers (PSN)
8. Unit Selection
Upcoming Affordable Projects
Ililani, Kakaako
Kohina, Ewa Beach (Ho'opili)
Koa Ridge, Waipio
Past Affordable Projects We've Helped Buyers In
A'alii, Ward Village
Block 803, Kakaako
Ho'opili, Ewa Beach / Kapolei
Kapiolani Residence, Ala Moana
The Central, Midtown Ala Moana
New Projects

Most new projects allow buyers to be represented by a buyer's agent. They must however be accompanied by their agent on their 1st visit. Even though they project may be new there are still important documents that a realtor can help you review during the transaction. They can also act as liaison between you and your lender, refer you to an insurance agent, help you find vendors for future home improvement, and keep an eye on the value of your property.

* If you are interested in any new condo projects please contact me for more info.

Affordable Housing: HHFDC & HCDA Programs
Past presentation that go more in depth about what HHFDC and HCDA does.
HHFDC – Lorna Kometani
HCDA – Lindsey Doi
Q & A