Ha'akea at Ho'opili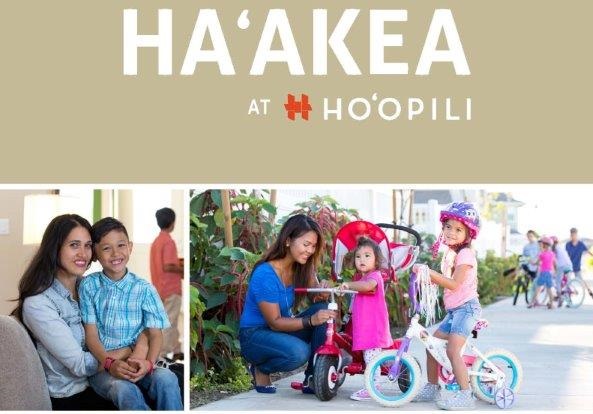 Price Range: $550,000-$700,000s
Address: 90-1500 Keahumoa Parkway Ewa Beach, Hawaii 96706
Year Built: 2017

Overview: Ha'akea at Ho'opili offers growing families, aging individuals, and locals to live the life of their dreams. Ha'akea allows residents to experience a convenient and new lifestyle. This community also offers 200 acres of commercial farms and community gardens as well as up to 3 million square feet of shopping and dining options. Ha'akea offers single-family homes starting in the high $500,000s.

Ha'akea will consist of 3 bedroom & 4 bedroom Single Family Homes ranging from 1,209sqft to 1,803sqft and including 2 car enclosed garages.
UPDATE 10/1/2017 – Ha'akea at Ho'opili to start sales via lottery. 1st lottery to happen Octover 15th, 2017
To give yourself the best chance at securing a home please contact me at (808) 351-8394 | JosephC@BetterHawaii.com and let me help you register with the Ho'opili sales office, get pre-qualified with a lender, and to receive updated notices on new releases.

Make sure you have a Buyers Agent!

* I do not represent the developer nor am I part of the sales team. I make no representations on their behalf. If you want information directly from the sales office I urge you to contact them directly. If you would like me to help represent you as your real estate professional I would be happy to meet with you.

Hawaii Starts Here | Joseph Castaneda (RA)

Joseph is realtor-associate with Better Homes and Gardens Real Estate Advantage Realty. He majored in finance and has experience as a former mortgage loan originator. He has helped buyers both with new project loans and going through the process of applying and obtaining units in new projects. He uses his finance, mortgage, and real estate knowledge to help home buyers find the right properties to fit their needs. Contact Joseph by phone or email at (808) 351-8394 or JosephC@BetterHawaii.com