Haloa at Ho'opili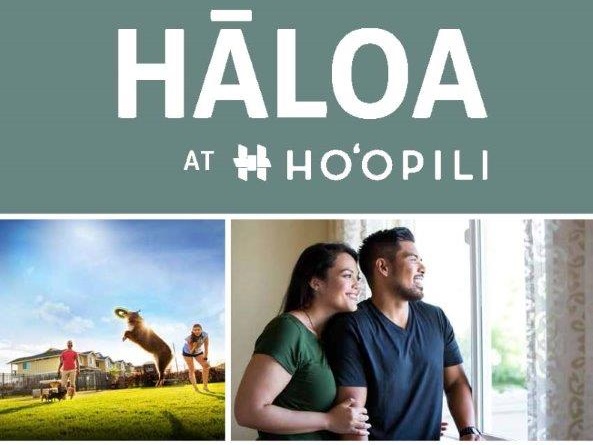 Price Range: $329,000-$649,000
Address: 90-1500 Keahumoa Parkway Ewa Beach, HI 96706
Year Built: 2017

Overview: Haloa at Ho'opili offers market-priced town-homes and FLEX homes starting at $489,000 & affordable town-homes and flats start at $329,000. Approximately 140 multi-family homes, including townhomes, duplexes, FLEX Homes, and stacked flats. Approximately 56 of the townhomes will be sold as affordable housing.
Consisting of 2 and 3 bedroom Townhouses and "Flex" homes. (Estimated maintenance fees between #249.74 to $374.81 per month & estimated master association fee of $59/month)
A portion of the Townhouses will be "affordable" meaning that buyers must fit under AMI (Area Median Income) restrictions. There are two tiers of affordable categories one being buyers up to 80% AMI and a slightly higher group up to 120% AMI. These buyers will be subject to a 10 year buyback but no shared appreciation.

Affordable Townhomes and Flats Starting at:$329,000(FS)

Market-Priced Townhomes and FLEX homes Starting at: $489,000 (FS)

There will also be market townhouses for sale and "Flex" homes which may be used as mixed use properties with businesses on the ground floor. The flex homes are perfect for small business owners such as hair salons.
To give yourself the best chance at securing a home please contact me at (808) 351-8394 | JosephC@BetterHawaii.com and let me help you register with the Ho'opili sales office, get pre-qualified with a lender, and to receive updated notices on new releases.

Make sure you have a Buyers Agent!

* I do not represent the developer nor am I part of the sales team. I make no representations on their behalf. If you want information directly from the sales office I urge you to contact them directly. If you would like me to help represent you as your real estate professional I would be happy to meet with you.

Hawaii Starts Here | Joseph Castaneda (RA)

Joseph is realtor-associate with Better Homes and Gardens Real Estate Advantage Realty. He majored in finance and has experience as a former mortgage loan originator. He has helped buyers both with new project loans and going through the process of applying and obtaining units in new projects. He uses his finance, mortgage, and real estate knowledge to help home buyers find the right properties to fit their needs. Contact Joseph by phone or email at (808) 351-8394 or JosephC@BetterHawaii.com