AZURE ALA MOANA
Update 9/14/2018 - Sales start tomorrow September 15, 2018 at 10:00am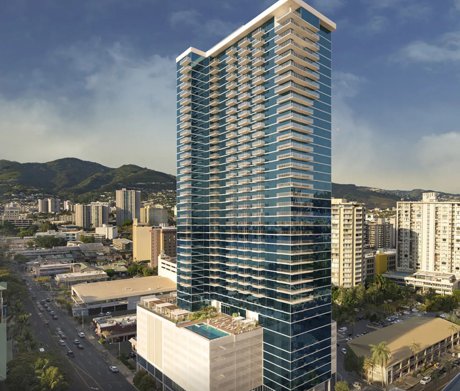 Azure Ala Moana is a brand new project coming up in what will be known as the Ala Moana Midtown neighborhood. This is the new name for the area surrounding Keeaumoku Street and Kapiolani with several new condo projects being planned in the next few years. Azure Ala Moana will be located at 641 Keeaumoku Street, Honolulu, HI 96814. The Building will consist of 41 floors including 2 floors of commercial space and a 6 story parking structure.
Azure Highlights:
330 Total Units
Studios - 1 Unit
One Bedroom, One Bath - 124 Units ($600,000+)
Two Bedroom, Two Bath - 195 Units ($800,000 - $1.2 Million)
3 Bedroom, 3 Bath - 10 Units ($2.1+ Million)
The building will also have 78 rental units
Full-time Resident Manager
Security and Concierge Services by Residential Specialist Staff
24-hour Attended Reception Desk with Secured Entry and Controlled Access
Parcel Acceptance and Storage
Amenity Deck
The amenities at Azure Ala Moana are on par with many of the other new projects in the Kakaako, Ward Village and Ala Moana neighborhoods. You can expect a pool and spa, private BBQ pavilions with shaded dining, Doggy Park, Movie Theater, club lounge with kitchen, bicycle and surfboard storage, fitness center with outdoor workout area, electric vehicle charging stations and four guest suites.
Ala Moana Midtown
Ala Moana Midtown is the name that developers are using to rebrand the neighborhood. Azure Ala Moana sits at the corner of Keeaumoku and Makaloa Street. Residents will have easy access to Walmart and Sam's Club (across the street), Walgreens (across the street), and Target (one block away). There are possible plans for more residential development on Keeaumoku which could drastically change the Ala Moana Midtown Area
Features of Residences
Floor-to-ceiling glass windows
Quartz countertops
Bosch appliances
Full-sized washer and dryer
Split AC systems by Mitsubishi
Bosch appliances were chosen throughout the kitchen with stain resistant quartz countertops. The kitchen faucet is Grohe with a Franke under-mount single-bowl stainless steel sink. In the kitchen you will also find soft close cabinets with walnut veneer lower cabinets and white vinyl upper cabinets.
* All Photo renderings and information subject to change. Please check with sales office for updated information. Photos courtesy of Azure Ala Moana, LLC.
All residences will be owner occupant or market units (no reserved or affordable housing). Sales start Saturday September 15, 2018 at 10:00am.
Process –
Contact Me to receive updates for the project.
Make sure you have a Buyers Agent!
* I do not represent the developer which is Azure Ala Moana, LLC nor am I part of the sales team. I make no representations on their behalf. If you want information directly from the sales office I urge you to contact them directly. If you would like me to help represent you as your real estate professional I would be happy to meet with you.
---
HAWAII STARTS HERE | JOE CASTANEDA (R)
Joe is realtor with Better Homes and Gardens Real Estate Advantage Realty. He majored in finance and has experience as a former mortgage loan originator. He has helped buyers both with new project loans and going through the process of applying and obtaining units in new projects. He uses his finance, mortgage, and real estate knowledge to help home buyers find the right properties to fit their needs. Contact Joe by phone or email at (808) 351-8394 or JoeC@BetterHawaii.com